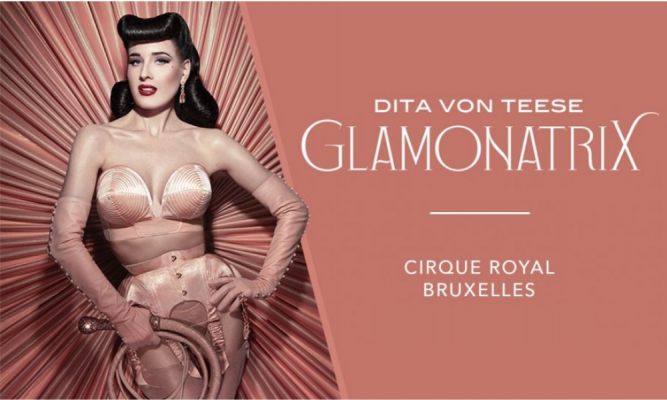 20.04.2022 • 20:00
Als gevolg van de maatregelen die zijn genomen in het kader van de huidige gezondheidscrisis, wordt de show van Dita Von Teese, Glamonatrix in Koninklijk Circus Brussel, initieel voorzien op 14 februari 2022, verplaatst naar woensdag 20 april 2022.
Uw reservering blijft geldig, u hoeft verder geen actie te ondernemen.
Je originele ticket geeft je toegang tot het show.
We willen je bedanken voor het geduld en begrip. Zorg goed voor jezelf en de mensen rondom je. Graag tot snel!
TOT ZIEN IN HET KONINKLIJK CIRCUS (BRUSSEL) OP 20 APRIL 2022!
The ever-dazzling International Queen of Burlesque, Dita Von Teese, is set to return to Australia, New Zealand and Europe with the most lavish touring burlesque show in history with her all-new revue, DITA VON TEESE: GLAMONATRIX.
The Glamonatrix burlesque revue takes audiences on a stunning visual journey with one show-stopping performance after another. The uber-glamorous variety show presents extravagant new production numbers from Dita and the cast, with costumes created by famed corset maker Mister Pearl, British designer Jenny Packham, French couturier Alexis Mabille, burlesque icon Catherine D'Lish, Brooke Brothers and more. Shoe aficionados will delight in the extraordinary bespoke footwear by Christian Louboutin.
The Glamonatrix tour follows Von Teese's "The Art of the Teese" which is the most successful burlesque tour of all time, playing to sold out theaters in cities across the United States, Canada, Europe, and Australia. "The Art of the Teese" was a triumphant introduction of Dita's full-length revue to Europe, with audiences clamoring to get tickets. This sensational tour sold out five nights at The London Palladium, graced the stages of opulent historic theaters, with even the Royals in attendance at the Opera Garnier in Monaco.